As part of the Old Town Hot Springs (OTHS) Community Support Program, all children enrolled in Northwest Colorado Boys & Girls Clubs are invited to participate in the OTHS "Learn to Swim" program happening this April at Old Town. "Every child needs to have the opportunity to learn to swim. It's a fun physical activity that requires coordination, endurance, and willingness to learn in a new environment. It's good for kids in so many ways and the consequences of not knowing how to swim are steep. Drowning continues to a leading cause of death for children," says Mark vonSchondorf, Aquatics Director at OTHS.
OTHS has provided pool admission to Northwest Colorado Boys & Girls Club members for years. "We realized some of our kids did not know how to swim. OTHS provided swim instructors, and a grant from the Be Great Bash provided the funds needed for extra staff and transportation. It's a wonderful collaboration between the two non-profits," says Kelly Landers, Development Director for Northwest Colorado Boys & Girls Club. "The kids love it, and the parents are so appreciative because many of them don't have flexibility with their jobs to get kids to swim lessons."
The OTHS Community Support Program was formalized in 2021, although OTHS has always given back to the community through donations, scholarships, and discounted access. In 2022, the program donated $217,000, in value, to other nonprofits and individuals, which is over twice the amount donated in 2021, and can be attributed to a $100,000 grant which OTHS received. The new program allows better oversite so OTHS can remain fiscally responsible while still providing access and support to the many facets of the community.
Through the Nonprofit Support arm of the program, donations were made to 73 organizations in 2022. These donations can be memberships or day passes for raffles or auctions to raise funds for the organization, or individuals served by the organization can use the facility. The Yampa Valley Parkinson Association is among the nonprofits served by OTHS. Its members attend aqua and fitness classes such as "Building Better Balance" and "Chair Yoga". STARS is another OTHS partner nonprofit whose clients work out at the fitness center and use the climbing wall and the pools. Nonprofits interested in support must apply and qualify.
"The Old Town Hot Springs has always been an integral part of the community, first for the indigenous Ute people who frequented the springs and later for the early settlers and townspeople, who built a bathhouse, then a swimming pool, and finally in 1935, created the non-profit Steamboat Springs Health and Recreation Association, now called Old Town Hot Springs," says Sarah Konopka, OTHS Marketing Director. "It's a been a place for all to find health and wellness, and we are proud that it continues to be today."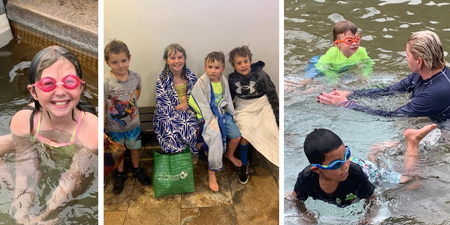 ---
Old Town Hot Springs is currently in the midst of a capital campaign to raise $10 million dollars for the essential reconstruction and improvement of the lap pool and kiddie play area. As Routt County's only public swimming pool, it's imperative that the reconstruction of the lap pool occurs to ensure that there is a public swimming pool for generations to come. These new pools will support the Steamboat Swim Team, swimming lessons, master swimming, aquatic physical therapy, aquatic group exercise, nonprofit partner programming, and recreation fun! Learn more about this important project!