Annual Fundraiser Benefiting Old Town Hot Springs
We are so grateful for your support of the 2022 event! Thanks to our generous sponsors and attendees, we were able to have an amazing sold-out event raising funds toward our capital campaign, It's In the Water.
Event Details
When: Thursday, June 15th – 5:00 pm to 9:00 pm
Where: Old Town Hot Springs
Food: Appetizers, Dinner, Drinks
Attire: Steamboat Fancy & Flip Flops
Who: Friends and Supporters of Old Town Hot Springs
Free childcare is available for attendees.
Stay tuned for info on the 2023 event!
The 2023 Flip Flop Fete will raise funds for the
Old Town Hot Springs Capital Campaign It's In The Water.
Goals of the Capital Campaign
Old Town Hot Springs' Capital Campaign aims to improve our health and wellness offerings to our members, guests and the community. Benefits of the capital campaign include:
An expanded pool footprint to allow access to more of our community.
A new 25-yard Lap Pool with eight lanes, gutters, and a diving board.
A shallow depth Community Pool that will be used for swim lessons, aquatic physical therapy, aquatic exercise, and more!
A new hot soaking pool to help with the demand of the hot springs.
A new kiddie splash zone with a shade area close to the lawn.
Two new water slides! And a water slide plunge pool that provides additional community space when the water slide isn't running.
Outdoor bathroom.
5 nights at The Placencia Resort
Enjoy a stay at this family friendly resort, a luxurious oasis of sophistication and comfort located in an exclusive area overlooking the Caribbean Sea. Savor delectable cuisine at 7 unique restaurants and all-inclusive activities for an unforgettable vacation at this magnificant beachfront resort.
6 Nights in Ireland
Escape the run-of-the-mill and become enchanted with a captivating journey through Ireland. Stay at Cassidys Hotel and Clontarf Castle Hotel in Dublin, The Old Ground Hotel in Ennis, and Randles Court in Killarney. Explore pre-historic forts, navigate pristine lakes and discover hidden gems on this guided adventure through Gaelic culture.
Enjoy a seven-night stay in a beautiful house that sleeps 12. The 4 bedrooms/4.5 baths villa is a short 5 minutes from the beach with beautiful views and lush tropical surroundings! Courtesy of Dave Pettigrew.
2 plane tickets & 3 night stay
Enjoy a round of golf for 2, including golf cart, at this par-72 course opened in 1897. Designed by golf and polo enthusiast Charles Maud, this inland course boasts a meandering layout that has challenged golfers for more than a century.
Unwind at the Hyatt Regency Monterey, a destination resort nestled in 22 acres of soaring Monterey Pines offering guests close proximity to downtown Monterey and easy access to some of the Peninsula's most well-known attractions.
3 night stay at the Fairmont Vancouver
Experience Vancouver from the water and enjoy a half day of fishing just minutes from the dock with a friendly, experienced professional guide who will ensure you have a wonderful time.
3 nights on the Russian River or Yosemite National Park
Camping in an Airstream is like living the American road trip dream without sacrificing any comfort. Enjoy modern and luxurious accommodations such as a queen-sized memory foam mattress topped with plush linens, pull-out couch, television, full bathroom, and private outdoor area. Choose the Russian River site located in a grove of Redwood trees near Guerneville, or outside Yosemite National Park, 40 minutes from the western gates.
Guided Fishing on the Yampa River
Spend a half-day fishing with guide Johnny St. John of Hog Island Boat Works on a private unleased portion of the Yampa River just upstream from the inlet to Stagecoach Reservoir. Then enjoy a Yampa Sandwich Co. fisherman's lunch! Subject to favorable fishing conditions.
High-End Wine Tasting at the Collective
Indulge in a private five-flight high-end wine tasting for 8 people, with expert commentary by Mike Lang, featuring simple dishes that pair beautifully with the characteristics of the wine.
Commemorative Starting Block
We are offering the opportunity to name one of the starting blocks on the new Old Town Hot Springs lap pool. An engraved plaque with your name will be attached to the starting block and your plaque will remain for the life of the block.
Paddle Raise Opportunity
We will invite all guests to raise their paddles as the auctioneer calls out increments of money ($100, $250, $500, $1,000, $2,500, and $5,000). Our goal is complete participation- it is not a competition. The paddle raise is a fully tax-deductible donation.
Thank You to Our Sponsors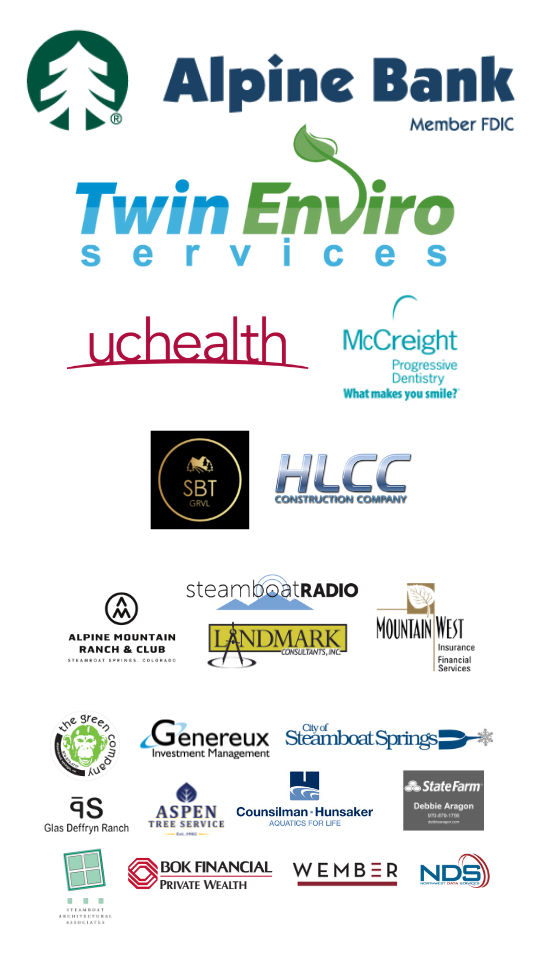 Presenting
Alpine Bank
Twin Enviro Services
Platinum Level
Kathy & Brad Iversen
Susan and Jim Larson
McCreight Progressive Dentistry
Anita & Jack Trautman
UCHealth
Karen Waeschle & David Zink
Elaine & Doug Wilwerding
Gold Level
SBT GRVL
HLCC Construction Company
Silver Level
Alpine Mountain Ranch
Landmark Consultants, Inc.
Mountain West Insurance & Financial Services, LLC
Steamboat Radio
Bronze Level
Aspen Tree Services
BOK Financial Private Wealth
City of Steamboat Springs
Counsilman-Hunsaker
Debbie Aragon State Farm Insurance
Genereux Investment Management, Inc.
Glas Deffryn Ranch
Northwest Data Services
Jane and Bud Romberg
Heather & Peter Sloop
Steamboat Architectural Associates
The Green Company
Wember, Inc.