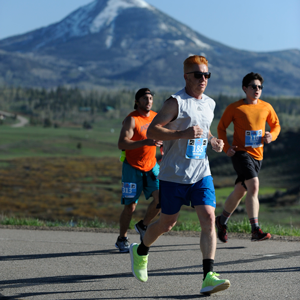 Are you thinking of tackling a running endurance race this spring, summer or fall, or simply want to get into better running shape? The Steamboat Springs Marathon is on June 5th so NOW is the time to start training whether you want to run the full, half, or 10K. Join personal trainer and triathlete coach, Joanne Orce, for a 12-week program of cross-training, endurance building, stretching, and running.
You will experience functional and strength workouts designed to improve your running game along with mobility work to assist in your recovery and endurance. This program is Saturdays from 8 AM to 9 AM.
This class will also feature an educational component with helpful tips and tricks ranging from nutrition advice to supplementation for prep and race day. Running plan and workout suggestions will be provided for weekly guidance outside of class based on individual goals.
When: March 12th to June 4th – classes held every Saturday 8 – 9 AM.
Who: All levels are welcome. Really! Joanne will customize a plan depending on your goal.
Cost: $129.99 for members & $149.99 for guests
Register: Please register through the members portal at www.oldtownhotsprings.org/members or through the guest portal at www.oldtownhotsprings.org/guests. If you have difficulties registering, please reach out to lpalmiotto@oldtownhotsprings.org for support.
BONUS: A Yoga for Athletes class will be offered every Thursday from 5:30 – 6:30 PM in Studio B. This class is free and included in your membership. Let us help you get prepared to smash your 2022 goals!