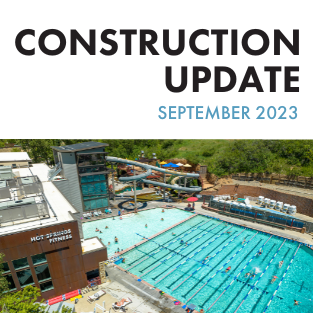 With summer drawing to a close and the new pump house project nearing completion, we are ready to break ground on the long-anticipated renovation of the lap pool, shallow pool and kiddie splash pad area. Although the existing hot pools will remain open during construction, the lap area will close to the public on Monday, September 18, 2023. Our semiannual pool maintenance week also falls on Sept. 18 – 22, which will close all pools as well as start work on refurbishing our 230ft water slides. When the project is complete next summer, we will have a 25-yard, eight-lane lap pool and diving board, a shallow-depth community pool, a hot soaking pool, and a new and improved zero-depth kiddie splash area.
"The essential reconstruction of the lap pool area is ten years in the making, and I'm beyond proud to see all of our team's hard work come to fruition." said Stephanie Orozco, Executive Director of Old Town Hot Springs. "This project was thoughtfully designed with community impact at the forefront. We have reached capacity for so many of our vital programming, like swim lessons, aquatic fitness classes, aquatic personal training, and more. This expansion will set us up to meet the needs of our community for decades to come." added Orozco.
OTHS acknowledges the impact the pool closure will have on our community's devoted lap swimmers and is encouraging swimmers to connect with Fitness Director Lisa Palmiatto, who is ready to help develop personalized plans to maintain your strength and mobility during the construction process.
For the most up-to-date information on the It's in the Water Capital Campaign construction, visit or FAQ and Construction page.