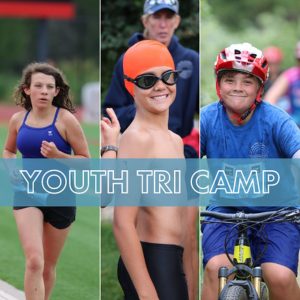 Calling all youth athletes! Coach Joanne Orce is back to teach the popular Youth Tri Camp this summer.
This program is a one-week camp (offered two times in July and August) geared toward youth athletes aged 11+ who can swim at least 25 yards freestyle and are interested in improving their triathlon skills. The daily three-hour sessions will include swimming, biking, running, games, drills, and lots of fun with other triathletes! Come ready to swim first, and bring your bike lock, mountain bike, running shoes, snacks, and water bottle. Please make sure the bike is in working condition prior to attending camp.
When:
July 10 – 14 & August 7 – 11 from 1 – 4 PM Monday – Friday.
Cost:
$99 per child for members | please use the member portal to sign up. $119 per child for guests | please sign up here or call the Front Desk at 970-879-1828. Registration opens Tuesday, February 7.
About Coach Joanne:
Coach Joanne has been a competitive triathlete since 2011 and a certified USAT triathlon coach since 2017. She has completed 7 full distance Ironmans (7 x top 10 Age Group placements), 20+ half ironmans and many, many olympic and sprint races. She is 5x All American and has qualified for and competed in Age Group Nationals and World Championship races. Joanne was co-founding member and President of the Northern Westchester Triathlon Club in New York and led the club's Youth and Adult activities for 8 years.